There are many benefits you'll experience with a spray foam roof.
Your first question when coming to this page might be, what is a spray foam roof? Don't worry—it's not a roof made out of foam! Spray foam roofing is a material that sprays onto your existing roof as a liquid and then expands into a foam and hardens, creating a solid coating. This can give your old roof new life and protection against leaks and other damage.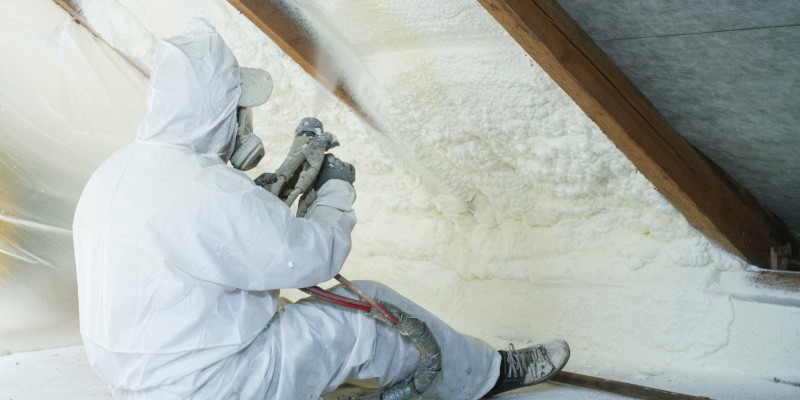 It might seem like a spray foam roof would be a newer innovation in use for Burlington, North Carolina commercial roofing structures. However, SPF (spray polyurethane foam) has been around since the 1960s. This means it's a proven method that has a long life.
At Just In Time Roofing & Restoration, we are happy to report that advancements in the equipment and products used have made spray foam roofing a dependable solution with a variety of benefits, including:
Seamless- Spray foam roof coatings offer an even application without a seam that could fail, making it a better choice than rolled materials.
Energy efficiency- There is a high R-value with a spray foam roof so you can enjoy lower heating and cooling costs.
Speedy installation- Since it takes less time to install a spray foam roof and projects generally do not involve tear-off, the labor charges are more affordable.
Self-flashing- It is far easier and quicker to thoroughly seal around roof projections, such as vents, pipes, parapet walls, skylights, drains, and HVAC units.
Easy maintenance- Most minor repairs can be handled by your maintenance staff.
Cost effective- It requires less material, equipment, and labor hours to install a spray foam roof, although other factors can make it a bit costlier for the initial installation than other roofing systems. However, when you consider the longer lifespan, you considerably cut your roofing replacement costs in the future.
A spray foam roof must be installed by an experienced professional who knows how to properly mix the chemicals and install only when weather conditions are favorable. You can rest assured that our locally owned and operated company brings sufficient experience to the table to ensure you get the exceptional results you deserve. Contact us today to learn more and get a quote for your commercial building.
---
At Just In Time Roofing & Restoration, we offer spray foam roofs in Burlington, Oak Ridge, Whitsett, Mebane, Graham, Elon, Reidsville, Haw River, McLeansville, Durham, Hillsborough, Chapel Hill, Pittsboro, Liberty, Cary, Summerfield, Pleasant Garden, Archdale, Trinity, Thomasville, Randleman, Climax, Apex, Browns Summit, and Greensboro, North Carolina.
Similar Services We Offer: