Call our team for our solar panel installation services to get started!
Not all roofs just have shingles, gutters, slates, and underlayment. In fact, you can make an addition to your roof that will not only be environmentally friendly but will also have the potential to reduce your electricity costs. How? It's easy– all you have to do is call our team for our solar panel installation services, and we can get you started right away!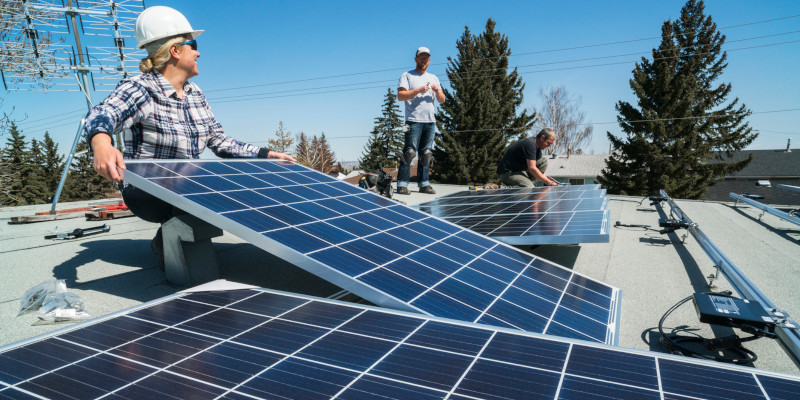 We take our work very seriously here in the Burlington, North Carolina area. We care about the safety and functionality of your roof, and we take great pride in prioritizing our relationship with you by offering superior customer service. That being said, you can rest assured that we are more than capable of performing any work in roofs or gutters that you might need done. This includes our solar panel installation services, as we recognize the need for a reliable roofing company to help make improvements to your residential home or commercial facility.
Experience the benefit of solar power for yourself
You can ask us for more information about our installation process, but here are a few basics: We start by inspecting your roof and discussing your options to make sure your roof and solar panels will work well together. Then, we oversee and perform all the work with things like the electrical systems, actual installation, and safety features. When we're done, you'll be left with a beautiful set of solar panels to enjoy for years to come.
For more information about our solar panel installation services or any of our other services in roofs and gutters, give us a call here at Just In Time Roofing & Restoration today!
---
At Just In Time Roofing & Restoration, we offer solar panel installation services in Burlington, Oak Ridge, Whitsett, Mebane, Graham, Elon, Reidsville, Haw River, McLeansville, Durham, Hillsborough, Chapel Hill, Pittsboro, Liberty, Cary, Summerfield, Pleasant Garden, Archdale, Trinity, Thomasville, Randleman, Climax, Apex, Browns Summit, and Greensboro, North Carolina.